Once you've made the decision to implement ChildCareCRM and a child care management system, it might seem more manageable to have them separated. If you're looking to streamline your processes and ensure your team is increasing productivity, consider integrating your CMS and your CRM. You may find that you remove opportunities for human error and increase efficiency.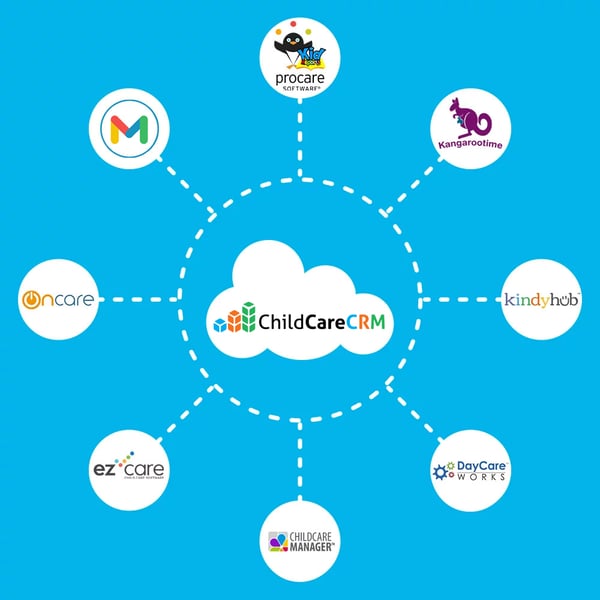 Your ChildCareCRM system is likely the center of your inquiry and enrollment processes. But stacking up against your child care management software, you may not recognize that it's also the central information hub for the entire organization.
Since the first child care management system was introduced, these tools have been thought to be the center of your operations for good reason. Our integration partners are the leaders in family and staff data and financial management. When you deploy an integration between ChildCareCRM and one of our partners, you will save your admin teams time and improve each enrollment's experience by maintaining consistency and delivering information to them more quickly than before.
Now that you have both systems running in your centers, it seems impossible to run your daily operations without each of them in place. A CMS-CRM integration can make a huge difference for the organization and its users.
Imagine never again dealing with that first-day panic when a new family walks through your doors and they're not yet in your child care management system.
Too often we tell them, "We'll have everything ready for you at the end of the day." With a CRM-CMS integration, you can send new enrollments' information to your management system in seconds and correct the problem before they even arrive in their child's classroom.
You can also use ChildCareCRM's marketing automation functionality to send automated follow-up emails, text and scheduled calls to check in with new and long-term enrollments without missing a beat. Reporting on the inquiry-to-enrollment processes is a no-brainer, but the most sophisticated organizations in our industry are also reporting on student and family retention. How long are they staying? Which classrooms are trending up or down? Using your CRM-CMS integration allows you to report on processes from inquiry through graduation or withdrawal from your program.
As you think about taking your center to the next level, think about the systems and technology you already have in place. What problems can they solve that you might not be considering yet? Can your systems speak to each other or support your processes in a way that helps each employee, student and parent in your schools?
Check out our partner pages to learn more and see if one of these integrations might be a good fit for you: