It's no secret: Your ChildCareCRM system tracks so much information about each family that it can be hard to know which fields are important and which are just added perks to help you build a conversation. I can make a case for why each field and dropdown is important, but one the easiest to overlook yet often most crucial is the Expected Start Date.

The Importance of How Soon
Parents planning a start date more than 3 months into the future (with the exception of expectant parents) are typically making decisions based on as much information as they can get. They are rational, fact-based buyers and will need to understand the big picture of your organization and how their family fits into it before deciding to enroll. The inquiry-to-enrollment process for them is methodical. They've typically hit every stage of your enrollment funnel, starting with a web form submission. This family is weighing all the pros and cons, so be more open to a conversation about features and benefits with them. It will be important with this kind of lead to stay on top of every follow-up and be sure to secure the clear next step at every interaction. They're looking for a director who will be a mutual part of the decision-making process.
Parents who have a tighter time frame to enroll are registering based on emotion. Something has changed in their lives — a bad experience at another center, a move, a job change, etc. — and change, for many people, is scary. Usually this parent is a walk-in tour or maybe even a late-night or early-morning web submission after a poor pick-up or drop-off experience at their previous center. This parent is looking for the human element and gut feel of a tour. Treat this parent with kid gloves. They'll register based on instinct and on how they feelabout their interactions with you and the teachers. This prospect's time frame is shorter, so you should plan to follow up with them within a few days if they don't enroll on tour. They are probably shopping around a bit and will look for someone who will hold their hand during this process.
Why Does it Matter?
Knowing when the prospective family intends to start in your program gives you a clues on conversation points or how to interact, but it also helps you keep your pipeline current and targeted to those most likely to enroll. Without an expected start date, there's no way for you to tell whether you've missed the opportunity to register or if they're still weighing their options.
There are valuable reporting capabilities within your system that allow you to sort your opportunities based on start date. You'll want to use these to know who is most important to target follow-up to this week. How many phone calls can you make in a week? Wouldn't it be easier to know who your top prospects were and prioritize from there?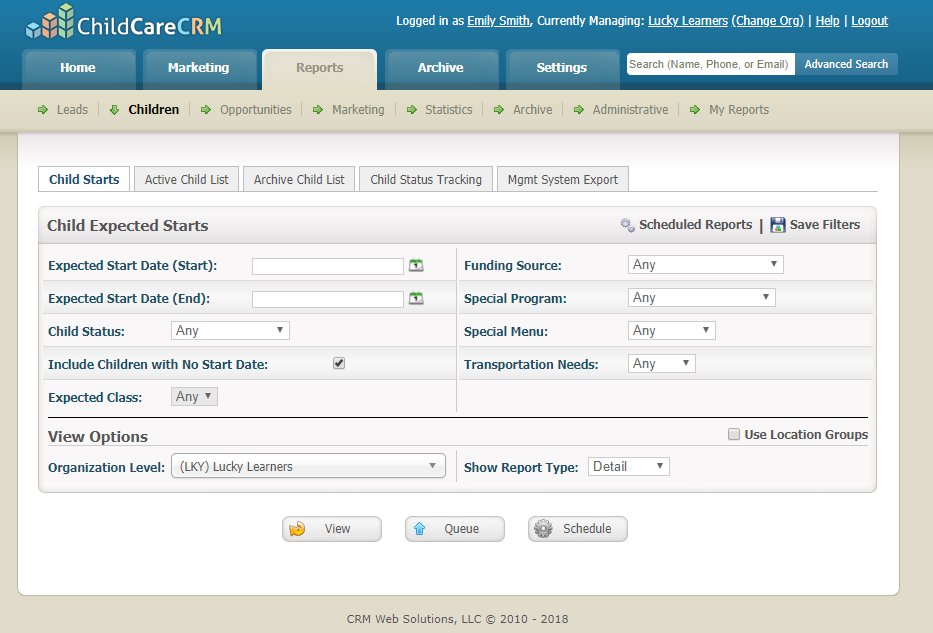 Working with an expected start date will do more for you than just indicate if you have space or not. Knowing when the child(ren) will need care will help you understand your prospective parent's decision-making time frame, giving you insight into when to follow up and how to tailor your conversations at each step of the enrollment process.