How to Grow Your Childcare Organization with Facebook
Scaling your childcare organization can be difficult without the right marketing tools in place to target a specific, qualified audience. Fortunately, Facebook has you covered with expansive features like custom Facebook tabs, CTA buttons to optimize your page for growth, digital ads, engaging photos, and the option to learn about Facebook's algorithm to ensure your content reaches the feed of your main demographic.
93% of marketers use Facebook regularly for advertising. That along with over 1 billion daily active users makes it the largest social media platform for digital marketing. Read further to explore how to grow your childcare business by gaining more enrollments across all your centers through some of Facebook's lesser-known marketing features.
Getting Started with Facebook As a Digital Marketing Tool
Social media can sometimes be undervalued and seen as a simple tool for family engagement – primarily used for posting photos or updates about the center. Occasionally your content reaches your target audience but unfortunately, most of your posts end up on the feed of either non-parents or parents who aren't currently searching for care. However, when high-quality content is paired with dynamic lead-generating or lead sourcing features, Facebook can help you attract, capture, and retain families.
To get started, there are really only two ways to create a Facebook business page. Learn how to set up a Facebook business page from scratch or just convert your personal profile (if you already have one) to a business page. If you decide to go the second route, Facebook will transfer your profile picture, cover photo, and the name of your childcare organization. Facebook will also allow you to choose which uploaded or tagged photos/videos, friends, followers, and pending requests to copy over from your profile.
Remember to use a profile and cover photo that positively represents your business. Use photos of teachers, classrooms, or developmental activities. Then, add a CTA button such as 'submit an inquiry' or 'learn more about our center locations' to help drive traffic to your site.
Next, you need to choose the right category for your Facebook business page. Facebook has six options:
Local Business or Place

Company

Organization or Institution

Brand or Product

Artist, Band, or Public Figure

Entertainment, Cause, or Community
For your multi-center childcare enterprise, you'll have more opportunities to grow your business with the robust features offered under the 'organization or institution' Facebook category.
To stay up to date with more information about how you can attract and gain more leads that convert to enrollment, subscribe to ChildcareCRM: The Blog.
How to Build a Reputable Facebook Business Page
After choosing a category for your page, explore the features that Facebook offers for childcare enterprises. There are a range of underutilized, dynamic Facebook features to help you scale your childcare business by marketing to prospective families who are actively searching for care.
Previously, your Facebook options were limited to sharing posts, videos, ads, and interacting with leads through content. Now, you can make the most of Facebook's extensive set of features to drive more organic traffic. Organic traffic consists of any visitors that find your landing page, website, or social media page optimized for search engines naturally, without paid distribution – making it extremely valuable for your business. The price of converting these prospective families to schedule a tour or enroll for care will be less. The more organic reach that you have, the better your pipeline will generate, and nurture leads through key conversion points. Explore ways to enhance your Facebook page so that more leads can easily find your childcare business:
1) Get A Vanity URL
Once you've set up your business page on Facebook, there are a variety of ways to optimize your page. A vanity URL is a unique URL branded for marketing purposes. Essentially, they are custom URLs that are easier to read, search, remember, and share. It's great for enhancing your Facebook Business Page's SEO and organic reach, which is important for all individuals in the childcare industry to consider because 70% of marketers see organic traffic from SEO as more effective than pay-per-click ads.
2) Upgrade Your Photos and Images
Facebook is primarily a visual social media platform. On average, 35.7% of posts from a Facebook page are images. So, it's imperative to use high-quality photos for your profile picture, cover photo, and image posts. Use cohesive brand logos, colors, and fonts for each post or profile upload.
3) Choose A CTA Button to Create an Actionable Goal
47% of websites and Facebook business pages have a distinct call-to-action button that takes prospective families under 3 seconds or less to see. Your CTA should be a clear, concise action that directly relates to an offer, service, or piece of information that your childcare organization supplies leads with.
Showing CTAs as buttons creates a 45% boost in clicks. While you can't customize the CTA button placed on your Facebook business page, you are able to alter CTA button colors, copy, and icons for ads. Further, the pre-set CTA buttons for your Facebook page consist of:
Book now

Contact us

Shop now

Sign up

Watch video
Pro Tip: Link posts receive 73% less engagement than video posts. Prioritize placing short-form videos into your social media strategy with tools like Biteable, Lumen5, and more.
To drive even more leads, place a button on your Facebook page and have your CTA creatively integrated into your cover photo. This makes it more likely for prospective families to follow through with the desired action because they see it twice, thus generating a higher conversion rate for tour schedules, tour completion, and enrollment.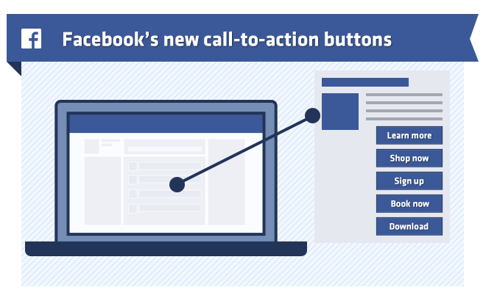 4) Use Custom Facebook Tabs (sidebar)
The sidebar tabs on your Facebook Page are customizable so you can include important information about all (or one) of your childcare centers, choose to display an additional CTA for higher conversion success, and answer any questions to reel prospective families in. This allows users more opportunities to interact with your childcare organizations' page and content. Also, prospective leads who are just browsing can easily return to a specific point on your page or locate your website.
5) Create Engaging Content and Clean Up Your Posts
The way you format your posts will either make them stand out or fade into the background, depending on the sharpness of images, image sizing, and copy. When your Facebook posts consist of high-quality photos, they are 10 times more likely to get engagement than a post that only has copy.
Declutter your posts, re-size and sharpen images (of center locations, educational information, your curriculum, childcare staff, etc.), implement your vanity URL or simply shorten your URL, and optimize your post headlines with keywords.
Best Practices for Using Facebook's Features to Scale Your Childcare Organization
1) Highlight Upcoming Events
Posting upcoming events at each of your center locations is a great way to showcase how your childcare organization impacts the community. Events highlight the support your organization provides for prospective parents and spread awareness about unique programs or featured offers. Plus, these event postings allow you and your marketing teams to collect email addresses and contact information to capture more leads.
Event postings are a perfect time to get creative and think outside the box. Some event examples include – parents' night out, open houses, upcoming tour dates, virtual parent-child cook-offs, virtual arts and crafts day, in-person silent disco party, outdoor storytime, pajama day at school, and much more.
2) Update Your About Section
Always keep your 'About' section up to date. Be sure to include essential details like your hours of operation, childcare company values, social media links, and contact information including the phone number, email, website URL, and location information. If you have a different Facebook page for each location, region, or district - include the location of just one of your centers in your multi-site organization. If you're sharing one page for all your centers, tacking all your locations on a map's image helps inquiring families understand that you have multiple sites.
Finally, make sure to add and update your page roles such as the page administrator, editor, etc. to ensure the right people have access to your childcare organization's Facebook page.
3) Explore Publishing Tools, like Automatic Placements and Facebook Lead Ads
Carousel Ads are a great option on Facebook if you want to display a series of photos. This type of ad can be combined with Facebook Lead Ads to collect, organize, and automate follow-up for relevant prospective families.
Automatic placements allow Facebook to make the most of your marketing budget. It places your childcare ads on all relevant platforms: Facebook, Instagram, Audience Network (a tool to increase your reach. It places ads on other websites in relevant childcare networks), and Messenger. The audience targeting works the same across all available placements - so you'll be sure to reach high-quality prospective parents that are actively searching for care. It also lowers costs and optimizes your ROI by identifying the most efficient audience to maximize the return on your marketing expenses.
Further, custom audiences helps you easily find existing audiences through different sources (email lists, website traffic, engagement, or interaction of prospective leads on your Facebook page) to build a qualified list of leads that already know about your childcare business. For example, use custom audiences and a paid-for service - Facebook Lead Ads - to advertise your centers to a qualified parent audience. Facebook Lead Ads include an Instant Form where you can collect vital contact information from parents for personalized follow-up later on.
What to Know About Facebook's New Algorithm for A Wider Reach
Facebook has been changing its algorithm for years. Since 2018, Facebook has consistently updated its algorithm to enhance the user experience. Understanding what these changes are and how they factor into your childcare organization's marketing helps you better upgrade your Facebook page and content. If your page is in line with the current algorithm, your content will be viewed by more high-quality leads - generating more inquiries and tour bookings.
Here's a timeline of everything you need to know that Facebook has done so far...
2018 – Meaningful interactions (update) prioritizes posts that receive comments.

Pro Tip: Consider delegating the task of commenting, sharing, reposting, and replying to all prospective families that are interacting with your content to an individual on your marketing or enrollment teams.

2019 – The "why am I seeing this post?" tool is implemented.

Pro Tip: Create meaningful, valuable content that's specific and relates to your target demographic.

2020 – News credibility and the customizable data-sharing preferences update takes place.

2021 – Enhance the user experience.

First, Facebook takes every post available in a user's network (a.k.a. the "inventory"), and it scores those posts according to predetermined ranking signals, like the type of post, recency, etc.

Next, it discards posts that a user is unlikely to engage with, based on that user's past behavior. It also demotes content that users don't want to see (i.e., clickbait, misinformation, or content that they've indicated they don't like).

Pro Tip: Build content and optimize your page around the user's experience and the behavior of your prospective families, which can be tracked and sourced.

Other key elements in the algorithm include...

How recently the post was published

How frequently your childcare enterprise posts content

The number of likes, comments, the value of information, and shares on the post.

How often your childcare organization interacts with the audience viewing your post

Facebook is a prime digital marketing tool for scaling your childcare organization. It provides robust features that help attract more prospective families and gets your content in front of an interested, relevant audience. Once you've explored these Facebook features to grow your childcare enterprise, it's helpful to integrate with a CRM to further optimize lead generation, sourcing, and follow-up.

Check out the In-Depth E-book to Generating More Family Leads with Facebook Marketing or...

Subscribe to ChildcareCRM: The Blog to stay up to date with all the tips and tricks you need to know to know to reach enrollment capacity.