ChildcareCRM Earns the 'Why Users Love Us' G2 Badge
Irving, TX – July 13th, 2021 – ChildcareCRM was awarded the 'Users Love Us' badge from G2 after collecting more than 20 user reviews with an average rating of 4.0 stars or higher.
ChildcareCRM has helped childcare owners, directors, corporate leaders, and executives maximize their potential for growth with time-saving lead management and automation tools.
Periodically, G2 honors software providers with consistent and exceptional customer satisfaction – based on ratings given by real users. Check out why G2's a reputable source for driving success with outstanding technology.
G2 – Your Trusted Source for Making Smart Technology Decisions
G2 is the world's largest tech marketplace where people can discover and review the software they need to flourish. Their mission is to make trust a central part of digital transformation. G2's goal is to increase revenue, grow reputations, and supply authentic customer insights.
Why Does the 'Users Love Us' Badge Matter?
Customer voices are vital to business quality. Customer reviews are wonderful, but without a secure system to verify product usage, there's no reason to trust them. G2, on the other hand, is the #1 business solutions review site for a reason. They rely on first-party unfiltered, unbiased reviews from verified customers using platforms, including kvCORE. The structure and consistency of the G2 trust badges matter because they provide merit to real customer feedback. Specifically, the 'Users Love Us' Badge showcases highly satisfied customers.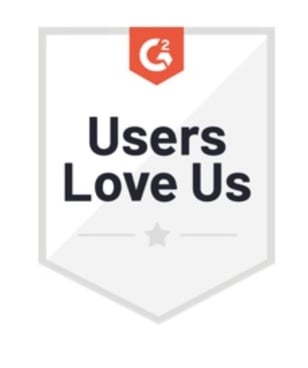 G2 'Users Love Us' badge
Get to Know
ChildcareCRM
Get more from your marketing with ChildcareCRM's award-winning marketing automation software. Grow your waitlists and boost enrollment while saving directors up to 10 hours every week. Join more than 4,000 childcare centers that capture more leads, automate marketing, standardize the enrollment journey, digitize the parent experience, and get real-time reporting.
Thank You
A huge thank you to everyone who has given us a review so far. If you would like to leave ChildcareCRM a review click here.
Interested in Using ChildcareCRM?
See our other awards or learn more about our products.