Dear ChildCareCRM Community,
For those of you I have not spoken with directly, my name is Matt Amoia and I was announced as ChildCareCRM's CEO last month. Our co-founders, Chuck Gibbs (Chairman) and Seth Martin (CTO) are still involved in the business they created 10 years ago and have been especially helpful during my transition period. The first 45 days have been filled with a roller coaster of emotions and, most recently, a very humbling world-wide crisis. While the COVID-19 virus was not in the 2020 plan we had put forth, it is our new reality and we are stepping up to meet the challenges it presents for our strong community of childcare center owners, directors, educators and executives.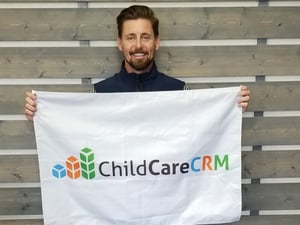 First and foremost, our hearts go out to those impacted by the virus both directly and indirectly. We feel fortunate to have no known COVID-19 cases so far. We put in place several steps, including temporary work from home policies, grounding all non-essential travel and cancelling near-term industry tradeshow and conference participation in order to protect our employees and the community at large.
Closely behind our team is you… our valued community. We are in this fight with you. Collectively our team has over 100 years of experience in the childcare industry, as well as over 80 years working in SaaS software businesses. We understand the challenges you are now confronted with while operating in the new normal and are here to help in three critical ways.
Supporting You. We implemented solid business continuity plans to seamlessly transition our teams, systems and processes to work from home environments. Our core platform is cloud-based, redundant and continues to be stable in these ever-changing conditions. We continue to have an unwavering focus on customer support across our entire team, from executives to the front lines.
Increasing Our Communication. We can share what our community is doing to navigate the new normal. Our Customer Success team talks to hundreds of childcare centers a day, and we have thousands of centers on our platform across the globe. ChildCareCRM is essential to helping them fill and operate their centers safely, COVID-19 crisis or not. We want to ensure that customers will continue to leverage our solution when it is needed most, whether that means driving enrollment or using our tools to communicate with families and staff.
Backing our Community. The childcare industry is small, interconnected, and a part of the fabric of our communities. We will continue to support our vendors and partners who rely on us to keep their own doors open. With the inevitable ripple effect potentially causing more pain than the virus itself, we are doing our part to keep the broader community afloat and navigating these uncharted waters.
As a leader at ChildCareCRM, it is my job, and promise, to keep the team focused on delivering in these three critical ways. As industry veterans and entrepreneurs ourselves, it is our passion to provide powerful solutions that help us get through this together.
Eager to be of help in any way we can, so please contact us at support@childcarecrm.com or Myself, Chuck and Seth directly at ceo@childcarecrm.com.
Sincerely,

Matt Amoia
CEO
ChildCareCRM