7 Best Practices for Communicating with Families Who Aren't Responsive
How do you get prospective families to respond?
Without a response – it's tough to know if families are still interested in getting a tour, joining the waitlist, or registering for care. Only 38% of leads reply back when it takes 42 hours or more to get a response about their initial inquiry. So, don't waste staff time on follow-ups for families who aren't likely to respond.
Learn how to communicate in the right way at the right time to increase the number of families who open and reply to your follow-up messages.
How to Get Parents to Respond to Your Center
Inquiries can come from a wide variety of sources - including Facebook, your website, phone calls, and lead generation platforms like Winnie or Kinside. Enhancing communicating with families by integrating ChildcareCRM with these platforms.
1)

Create a Strong Message
Before you begin launching a new campaign, determine your program's key talking points - or which areas of the center you want to promote. Maybe you offer a 30-day potty training program, enrichment programs, or late-night hours. Figure out what makes your business stand out from your competitors and use that when marketing to families. Strong messages drive responses.
With the right tools, you can send relevant and personalized content to target the unique needs of all your families. For example, use drip campaigns to automate sending customized content, based on how families previously interacted with your other campaign messages.
Tip – Place a 'reply prompt' in your emails and texts. This will increase the number of parents who respond. For example:
Include a question such as: 'Are you still interested?' or 'What's your child's favorite toy?'

Ask parents to send in a picture of their family, their most recent vacation, or their child's recent artwork.

Request that parents reply to your texts with their favorite emoji (this one is a ChildcareCRM customer favorite!)
Schedule a demo today to see how ChildcareCRM's email and text features make your enrollment process easier for families, center staff, and owners or executives.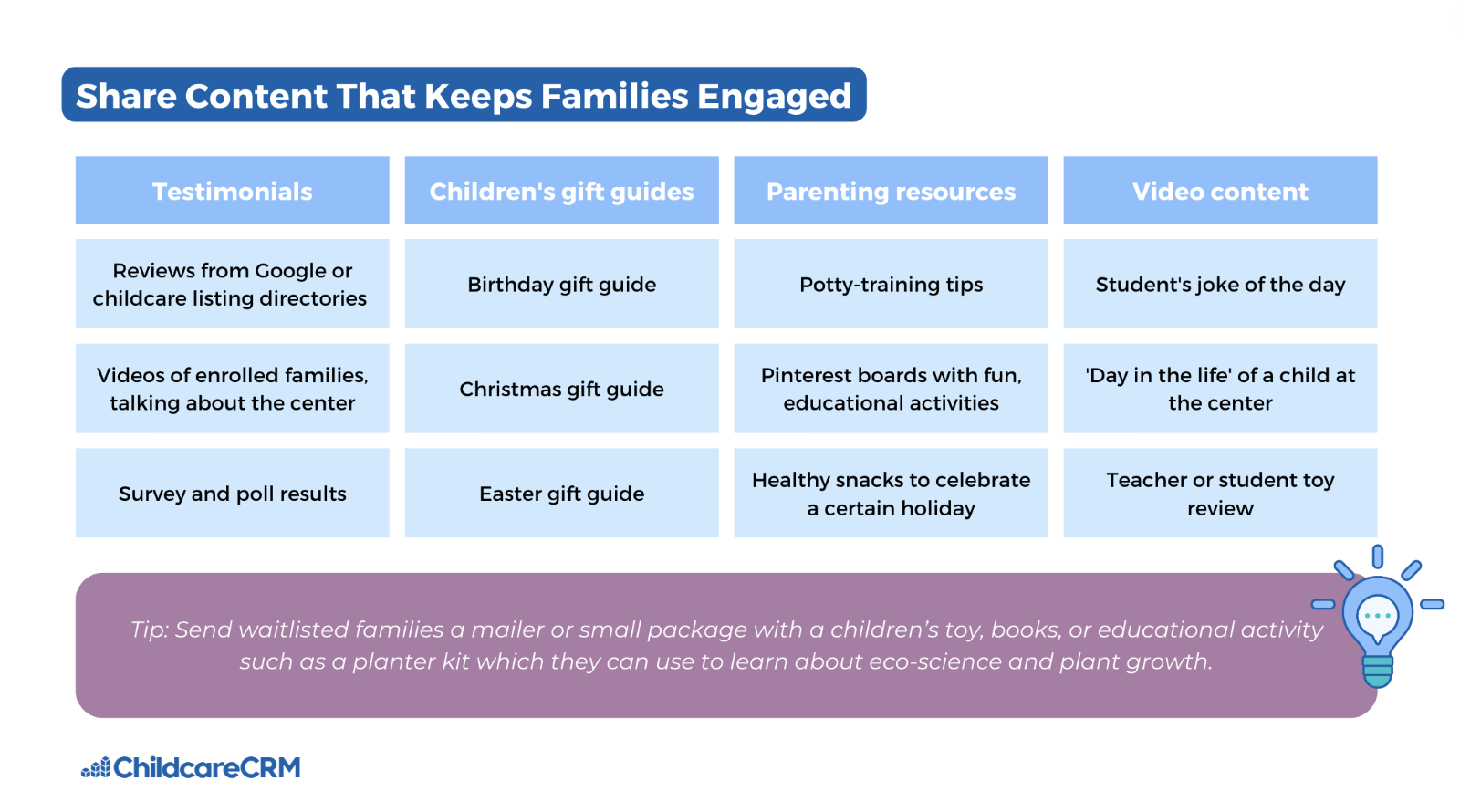 ChildcareCRM's Suggestions for Engaging Content
2)

Communicate Through Multiple Channels
Communicating with families can be simple. Use various methods of marketing and advertising to reach your audience. The more channels you use, the more likely you are to grab parents' attention. For example, use Facebook or Childcare Listing Directories (like Winnie and Kinside) to capture interest from new families, while also sending emails and texts at regular intervals. This omnichannel approach keeps your center top of mind and helps you cut through the noise of all the other advertisers they see.
When you're marketing in a variety of areas, you need a process for capturing and organizing leads at scale. Integrate your listing directories, website, social media pages, and phone with a childcare CRM that automatically collects family information and triggers new communication workflows to encourage parents to move forward with enrollment.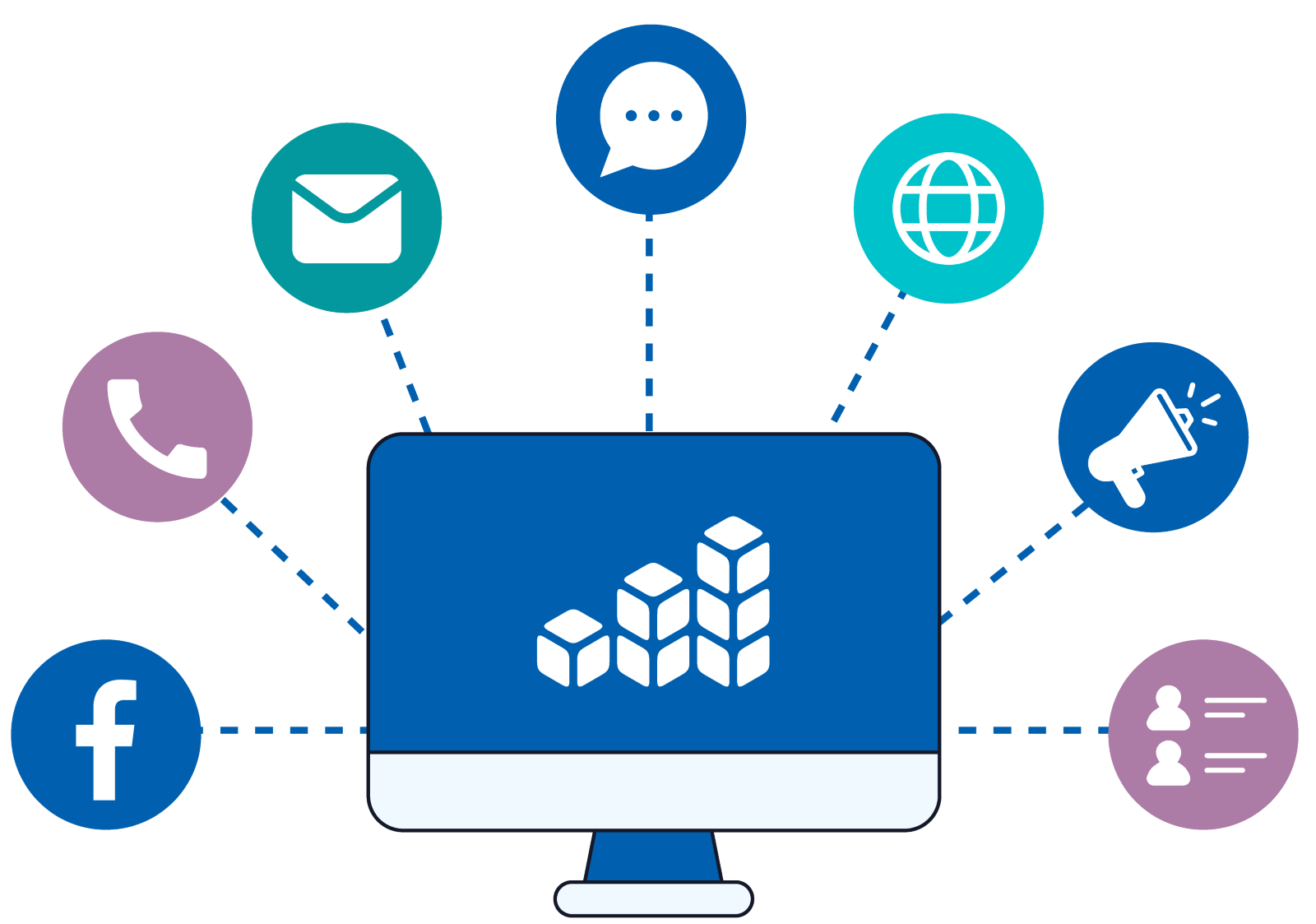 Various Lead Generation Channels that Integrate with ChildcareCRM
3)

Meet Parents Where They're At – with Texting
Did you know text messages receive a 98% open rate?
It's best to send text messages alongside your email campaigns to improve your open and response rates. Meet parents where they're at by offering multiple ways for parents to contact your childcare center. For example, a Telephony integration with childcare software captures all text messages (and phone calls) in one, organized place. Offering various ways to communicate with your center gives nonresponsive families a chance to contact you in the way they prefer.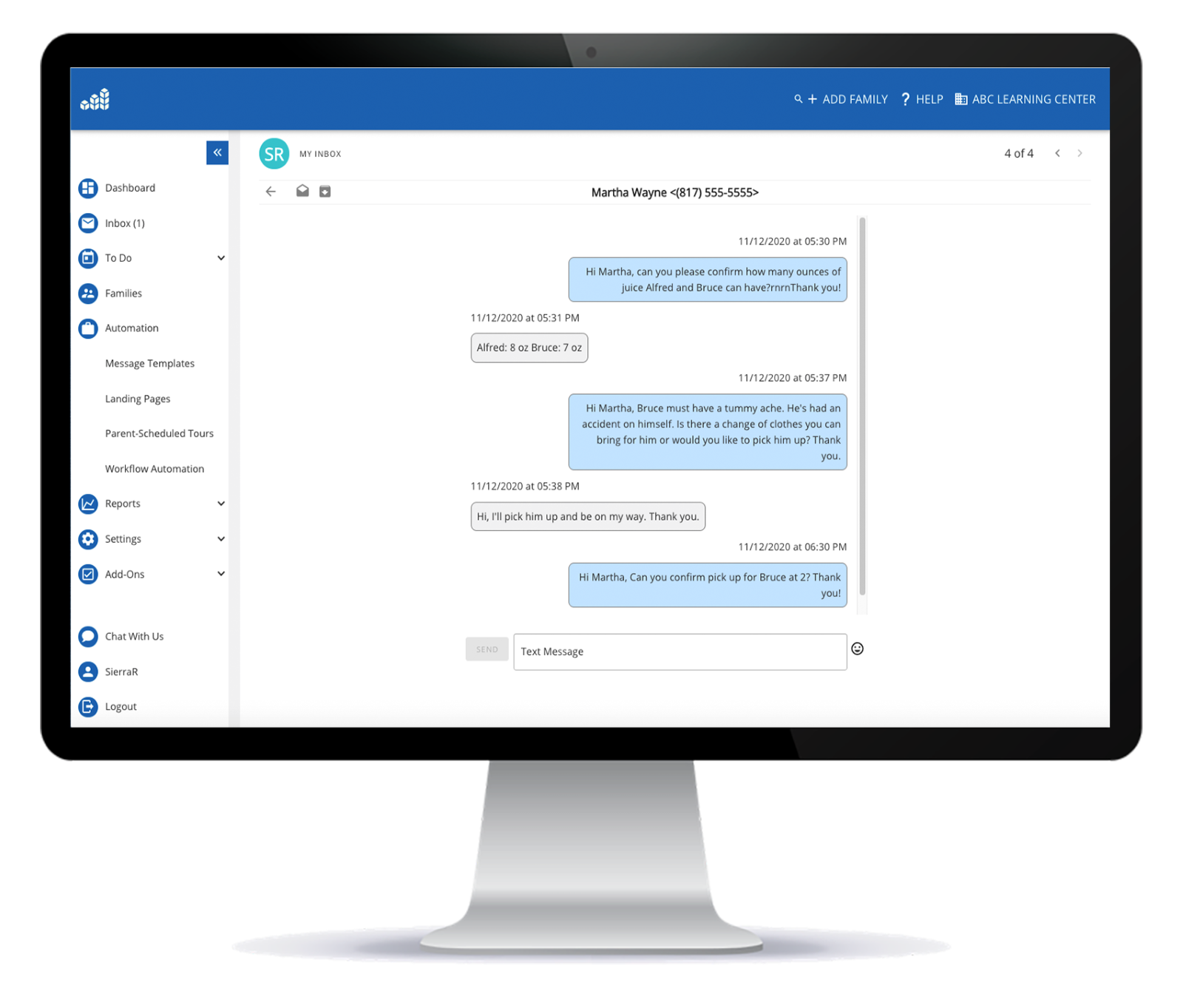 Example two-way text communications in ChildcareCRM
4)

Use Automation to Save Time and Communicate Faster
ChildcareCRM found that 5-10 workflow automations is the ideal range to engage and properly guide families through summer enrollment, saving staff more than 40 hours of work every month. Reduce costs and boost enrollments by automating your advertising and family communications. Minimize the number of manual tasks you or your staff need to complete daily.
In addition to saving time, workflow automations help you standardize enrollment across locations, ensuring you and your center staff are all on the same page and sharing the correct branding and messaging.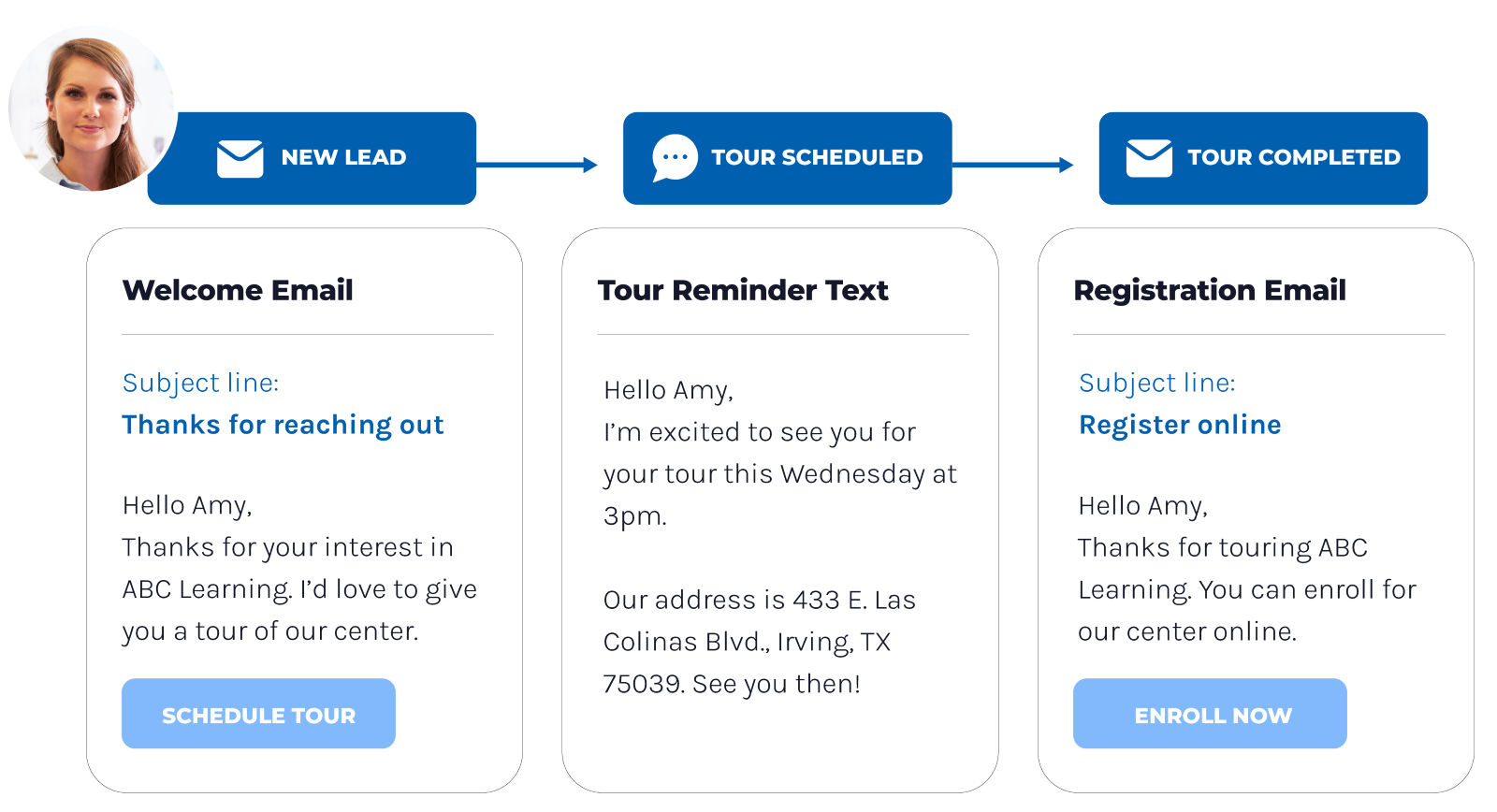 Example workflow automation for new leads
Create a regular communication cadence (and automate it) to remain top of mind with families, especially for waitlisted families that are searching for care with you and the center down the street – try sending...
2-3 emails during the first week families are on your waitlist

1-2 emails in the second week

After that, scale down to 1 engaging email per week.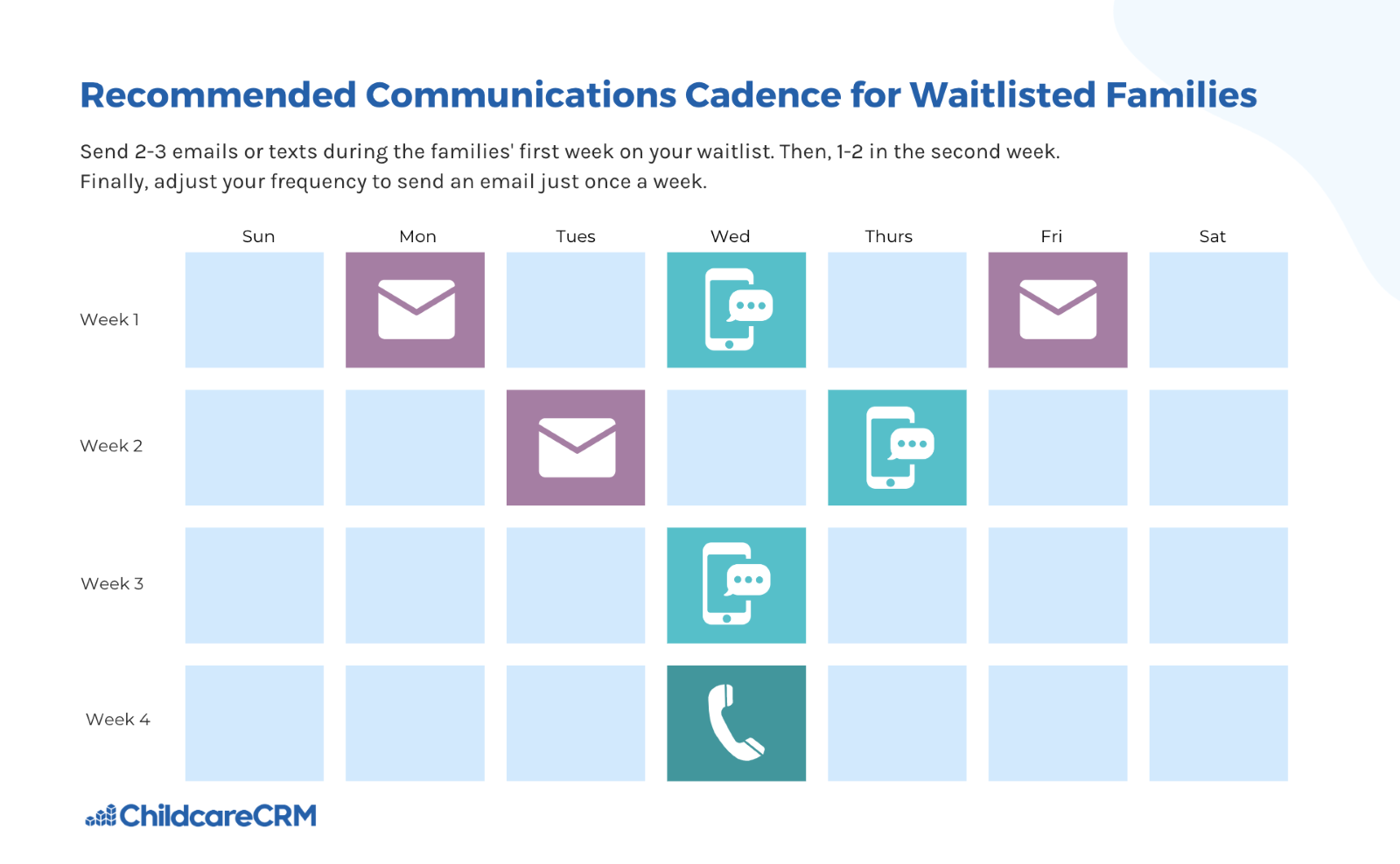 Recommended communications cadence for waitlisted families
5)

Make It Personal
Drip campaigns are great tool for multicenter childcare organizations because they're highly targeted and deliver timely results, without staff having to lift a finger. Since more than 90% of consumers say they're more likely to be loyal to companies that recognize and remember them, it's crucial that you prioritize personalization with today's parents.
With drip campaign marketing, parents in your enrollment pipeline receive unique, personalized emails and text messages – based on how each one interacts with your shared content or communications. So, if one parent clicked the blog link in your email, they're considered to be more engaged than a parent who simply opened your email and didn't click. These two parents can then be nurtured on different paths that fit each of their levels of interest and care needs.
Plus, drip campaigns are powerful tools for re-engaging families who may be considered a 'lost opportunity'. These behavior-based automations allow you to effortlessly check in with unresponsive prospective families, based on how they interact with the content you share.
It's been absolutely amazing, and I would highly recommend ChildcareCRM. We see the benefits of using it to do drip campaigns to market to parents that may be considering us and turn them into enrollments.
-Linh Nguyen, Franchisee Owner of Kids R Kids: South Riding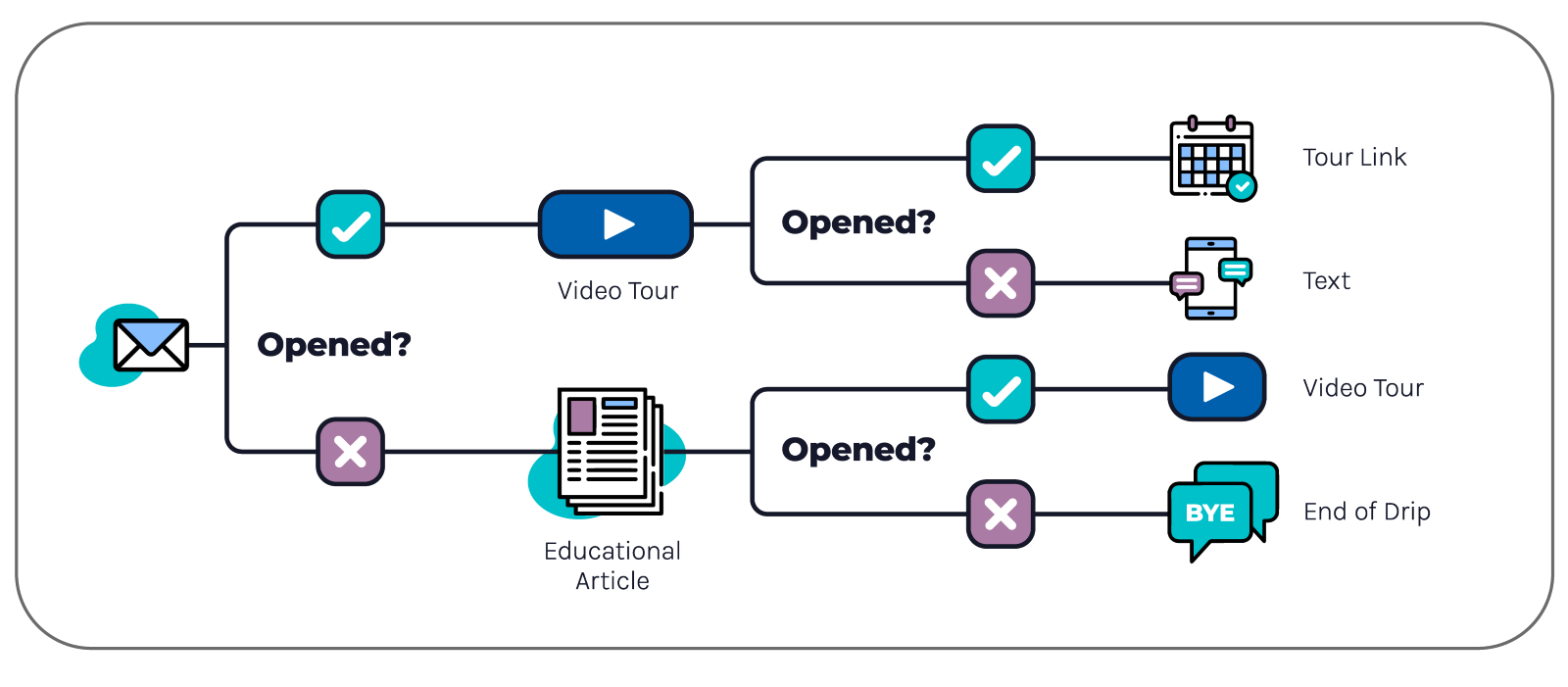 Recommended communications cadence for waitlisted families
6)

Stay Consistent to Build Your Brand
Use the same wording, imagery, logo, and phone number in your marketing so people can start to recognize your brand and develop a positive association every time they hear about you. Establish a reputation as your childcare organization scales. Consistent presentation of a brand increases response rates and, ultimately, revenue by 33%. For example, Cadence Education uses a dark green in their logo and branding elements to symbolize growth of knowledge.

Example of childcare logo/branding
7)

Track Your Marketing Efforts and Make Adjustments
Reports are your bread and butter for measuring the effectiveness of your marketing campaigns and enrollment initiatives. As our Founder likes to say, "you can't manage what you can't measure", hence why he started ChildcareCRM!
Marketing reporting is crucial for childcare operators, like yourself. There's no way to tell if your campaigns are truly the cause of any successes or failures unless you have the right tracking in place to report on these efforts. More importantly, marketing insights allow you to pivot (and stop spending money where you're not getting a return) when you find that something isn't working. Enhance your communication efforts with data-driven insight.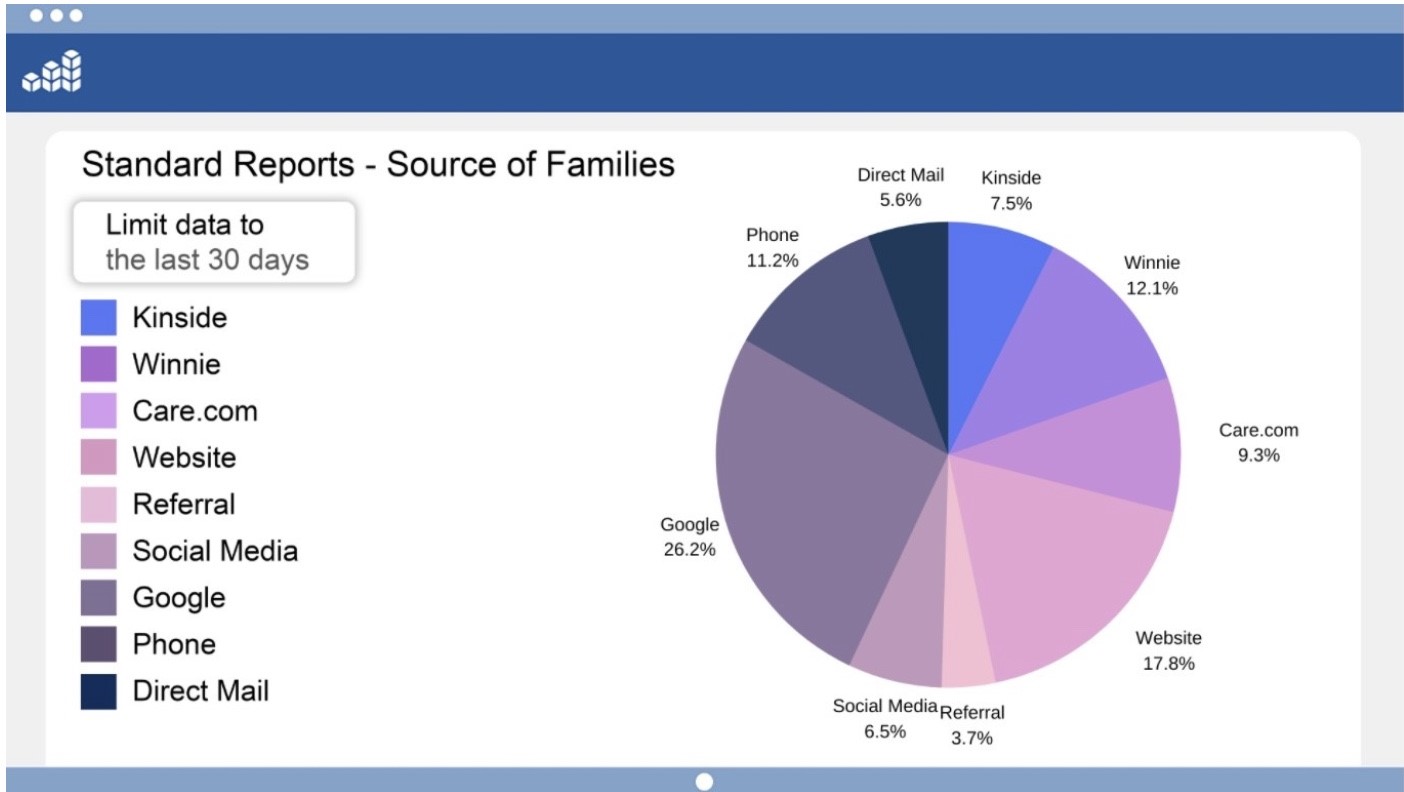 Example Source of Families report

ChildcareCRM Effortlessly Communicates with Families for You
Gain more responses from families that have yet to reply with the right communication tactics. Make your messages more personal and convenient through automation, drip campaigns, integrations, and by using different communication channels.
Interested in Using ChildcareCRM?
Schedule a demo today to see how ChildcareCRM communication features automate responses and effortlessly personalize messages.
Are You a Current User?
Learn more about CRM/CRM+ to streamline and grow enrollments, with less work.