6 Childcare Reports You Should be Analyzing and How Often
Managing enrollment on pen and paper makes it nearly impossible to know what's working and what's not across your centers.
Stop letting families slip through the cracks by viewing necessary family and performance information – all in one place. ChildcareCRM reports give you the insight you need to improve your enrollment processes and manage staff - with less work. In fact, 62% of marketers use CRM software to automate reporting while enhancing the value of their strategies, practically hands-free.
Get a complete picture of each childcare center's performance – using real-time reporting.
Use Reports to Amplify Childcare Center Success
Don't let your business fall flat against the competition. Without reliable reporting, you're wasting your marketing efforts, budget, and staff time.
Marketing reporting allows your business to monitor staff productivity, campaign performance, and estimate potential revenue. Effortlessly access and run all the reports you need in one place to eliminate manual processes that eat up your time.
With the updated reports in CRM+, you can:
Manage performance at-a-glance

by corporate, regional, and individual centers.

Improve productivity

with real-time visibility into each center.

Know which campaigns are winners

and worth doing again.

Ensure you have a

healthy enrollment pipeline

.

Understand how to

fill enrollments and manage waitlist spots

with ease.
6

Enrollment

Reports and Best Practices to Elevate Your Business
1) Conversion Success and Timing Report(s)
Discover how many leads are converting at each stage of the enrollment journey. Then, analyze by the children's age group, lead sources, marketing campaigns, and more. Plus, see exactly how long it takes to convert leads from one status to another (ex: New Lead to Tour Scheduled).
Best Practice
Successful conversion rates vary across every industry. In childcare, a 62% tour completion rate is considered successful and a 73% enrollment conversion rate (out of those leads who have completed a tour) is common among top-performing centers.
2) Marketing Campaign ROI Report
See which campaigns are leading to enrollments so you can identify the marketing efforts that are successful for your business. Then, apply what worked to future campaigns. Use these to create and share internal best practices with your teams so they duplicate that success at other centers and for other enrollment initiatives. This will all lead to higher conversion rates and will help improve your ROI (return on investment).
Best Practice
Most marketing professionals recommend looking at campaign data once a week to learn which channels are working the best.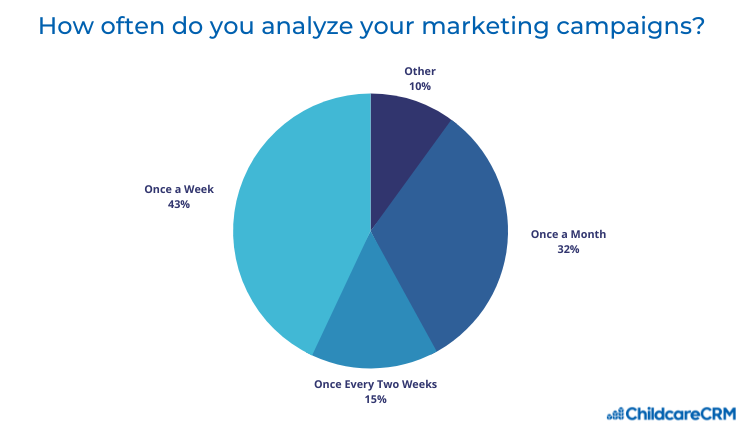 3) Wait List Report
You and your team can easily view who is on the waitlist (at each location) and sort it by age group, priority, and waitlist date. Know where there is excess demand from families so you can plan ahead. Identify where there's an opportunity to open new classrooms or even new center locations.
Best Practice
Monitor your waitlist once a month. Then, keep waitlisted families engaged by sending consistent emails and text messages every 10 to 14 days.
4) Estimated Revenue Pipeline Report
Run reports on potential revenue to forecast and optimize your marketing budget for the next quarter or year. Track conversion successes and the revenue that each one generated for your business.
Best Practice
At minimum, review your estimated revenue on a quarterly basis so you can build your marketing budget and enrollment plans.
Remember that to maintain a healthy enrollment pipeline and properly forecast revenue, your team must keep your CRM's data clean. Duplicate or outdated contacts can affect what you see in your reports and make your data unreliable. In some industries, 'bad data' can cost up to $13 million per year.
5) Stalled Families or Opportunities Report
See which leads aren't being kept up with and what their current enrollment status is. These are families that haven't become completely disengaged with your center but they're getting close to falling out of the pipeline. You can use this information to nurture families to the next enrollment stage and increase conversion success.
Best Practice
Check this report on a monthly basis to see which families may be falling through the cracks. With additional engagement, you can still convert families that you aren't in active communication with.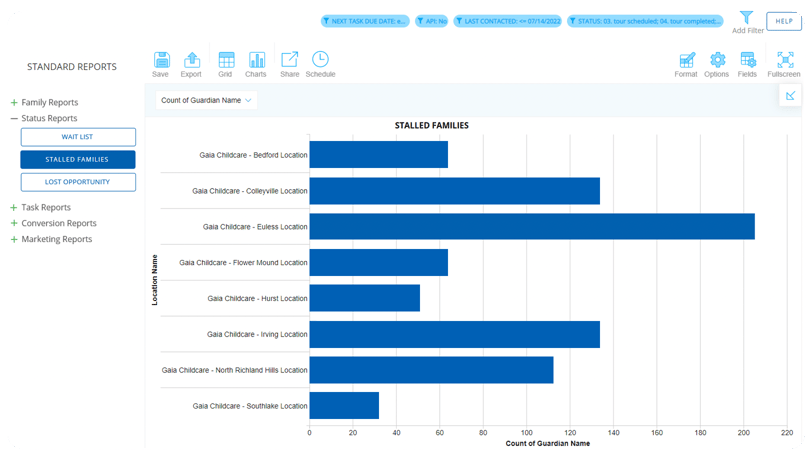 6) Lost Opportunities Report
Understand why parents are not enrolling with your programs and at which enrollment stage they're losing interest. Then, adjust your marketing strategies.
Review all your lost opportunities in one place to quickly re-engage families that dropped out of your pipeline. Lost opportunities aren't gone forever. Get back in families' good graces by sending email check-ins, sharing relevant content, and providing center updates.
Best Practice
Monitor this report quarterly and review it by 'enrollment stage' to see where the majority of families are dropping out of your pipeline. If 80% of families disengage after a tour, this could indicate a problem in your enrollment process. Then, you can let parents know once you've made a change that might encourage them to re-consider your program.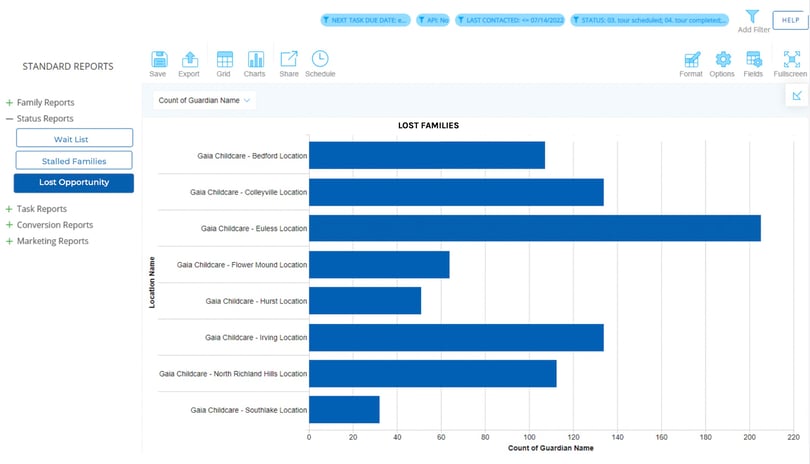 Easily Gain the Insights You Need to Make Data-Driven Decisions with ChildcareCRM
Today's enrollment journey is full of lengthy processes for you, your staff, and even for parents. You need to make enrollment simpler – for everyone.
ChildcareCRM is your all-in-one solution for running and viewing the reports you need with ease. Easily access all childcare reporting tools in one place to save time and give your staff 10-hours back each week. With enhanced ChildcareCRM reports...
Access multi-center views

Optimize childcare marketing spend

Make data-driven decisions

Gain real-time insights
Not a User Yet?
Schedule a demo to effortlessly view the data you need to get your time back.
Already Using ChildcareCRM?
Learn more about how upgraded ChildcareCRM reports help you get the granular insight you need to support your enrollment strategies and tactics.